Automobile Safety Archives
In Black and White, Toyota Hysteria Exemplified (Forbes.com)
By Michael Fumento
It's not "live!" It's not even "In color!" And there's no sound. But it's quite stunning.
A surveillance video posted by Fox Chicago News Online shows a 2006 Toyota Corolla backing out of a parking space and striking a car. The Corolla then shoots forward and slams into another vehicle, knocking it aside. Next the car swerves, presumably in an effort to avoid a strip mall, and crashes into a brick wall. The driver, Leon Przybylowski, died of his injuries later that day.
Artist's conception of media view of all Toyotas
As I write in my new Forbes.com piece, "In Black and White, the Toyota Hysteria Exemplified," the family is now suing Toyota. They insist the video supports their claim that Przybylowski, as the newscaster put it, was "yet another victim of sudden unintended acceleration." Their lawyer says it was another victim of "across the board" and "systematic failure" on the part of Toyota. Both, huh?


Actually, the incident is almost a perfect example of why Toyota SUA accidents really happen, comprising as it does:

Elderly drivers

Parking lots

A sensationalist media

Trial lawyers

Misconceptions about how cars work generally and throttles and brakes specifically

Ignorance, willful or otherwise, of solid data and substitution with presumptions, unwarranted allegations, and emotion


Oh, and gremlins.

There's no systematic failure with Toyotas. Prior to the hysteria outbreak, only three sudden acceleration complaints were filed with NHTSA regarding 380,000 Toyota Corollas model year 2006. Rather that failure has been that of the media in utterly failing to convey the importance of the above factors.
The Butcher's Bill for Texting while Driving
By Michael Fumento
In my LA Times piece "Texters, You'd Be Better off Driving Drunk," Oct. 3, I stated "There are no reliable studies regarding deaths associated with driving and texting." Well, there is now.
Texting behind the wheel accounted for 16,141 deaths between 2002 and 2007, according to Researchers from the University of North Texas Health Science Center in Ft. Worth. One way of putting that in context is that in the last 10 years NHTSA has attributed five (5) deaths to sudden unintended acceleration in Toyotas, four in one car. So where are all the newspaper articles and congressional hearings on text messaging?
Hope that last text was important!
To arrive at their number, Fernando A. Wilson and Jim P. Stimpson, writing in the Nov. issue of the American Journal of Public Health, analyzed nationwide data from the Fatality Accident Reporting System and texting records from the Federal Communications Commission and CTIA, a wireless telecom industry group.
They compared the number of deaths there have been versus those that would have occurred if there were no text messaging.
And it's only going to get worse. The average monthly number of text messages was 1 million in 2002, but by 2008 it was 110 million.
Panic over five deaths and complacency over 16,000? Not untypical. Since my first AIDS article in 1987 it's been a common theme of mine that the media, the government, and people in general aren't just irrational about reducing risks but actually tend to view them butt-backwards. The more rare something is, the more attention it gets along with more regulations. The more common something is, the more used to it we are and are willing to accept it.
Cassandra is not just the stuff of Greek legends.
My piece on texting while driving in LA Times
By Michael Fumento
"Border collie jill surveying the view from atop the sand dune." Those were the last words of Malibu plastic surgeon Frank Ryan, best known for "reconstructing" reality TV star Heidi Montag. It's not quite up there with "Et tu, Brute?" Yet it seemed important enough for him to text it just before driving off a cliff in August. Jill survived.
The engineer in the 2008 Chatsworth crash texted 25 people to death.
We don't know what the message was in a 2007 accident involving the sender and her four fellow New York high school cheerleaders. But it probably wasn't worth slamming head-on into a truck, killing them all. And the 2008 Chatsworth train collision, in which 25 people died and more than 100 were injured, was officially attributed to the engineer of the Metrolink commuter train being distracted by text messaging.
As I write in my LA Times piece, "Texters, You'd Be Better off Driving Drunk, we don't know what the annual death toll is from texting but all the evidence is that it's a growing killer:
It's more dangerous to text and drive than to drink and drive

Most people say they do it and the number of text messages just keeps on increasing

Texting is 17 times more dangerous than simply talking on a cell phone, and the number of deaths from that was estimated at 2,300 a year before texting caught on.

Texting is clearly addictive for many people, and as unfortunately know from personal experience with a loved one addicts will die - and kill - to sustain their habits.

At the same time I show that ALL the state bans on driving and cell phone usage are essentially worthless because they target the wrong cause of accidents. It's not taking your EYES off the road, but your BRAIN.

Finally, laws against texting ARE enforceable. This is a real myth-buster piece.
"A license to kill," my NYPost piece on "Toyota Defense"
By Michael Fumento
The "Toyota defense" just sprung a killer from prison. Ironically, it did so just days after a whistleblower revealed that the government is sitting on powerful evidence undercutting the whole "the throttle made me do it" excuse.
Javis Adams Jr.
As I write in the New York Post, four years ago, Koua Fong Lee sped down a St. Paul, Minn., freeway off-ramp at between 70 and 90 mph in his 1996 Camry. He hit two vehicles waiting at a stop light, instantly killing Javis Adams, 33, and his son Javis Jr, 10. Another passenger, Devyn Bolton, age 6, was paralyzed and later died from her injuries.
Lee claimed he was "stepping on the brakes as hard as possible," but mechanical engineers examined the car on behalf of both the state and the defense -- and, according to the prosecutor, both found the brakes were operating and there were no problems with the accelerator. Plus, there were no skid marks.
Lee was convicted of criminal vehicular manslaughter and sentenced to eight years in prison. But ultimately he served only 2-and-a-half.
Get ready for your blood to boil. And start thinking about the ramifications if everybody is simply allowed - with evidence as scant as this - to simply blame their car for the accidents that kill almost 40,000 Americans on our roads each year.
Mike on Neil Cavuto on Toyota tonight
By Michael Fumento
I'm scheduled to be the lead guest on Neil Cavuto on the Fox Business Channel at 6pm tonight.

Da-dum, da-dum, da-dum, da-dum . . .


Subject: The news that NHTSA is withholding exculpatory evidence regarding "alleged death" Toyota sudden acceleration accidents. And perhaps the guy in Michigan convicted of manslaughter who is the first to use "The Toyota Defense," that he hit the brakes and therefore the car accelerated. I've written about the "I'm sure I hit the brakes!" issue previously, in my piece "Why Do Toyotas Hate the Elderly?
The phony "Toyota deaths database." My article in Forbes magazine
By Michael Fumento
In the Toyota witch hunt, nothing has been more damning than those deaths we're told Toyota sudden acceleration "allegedly caused" or, depending on whom you read, DID cause.
As I note in my just-published Forbes magazine article, "93 and Counting," the National Highway Traffic Safety Administration insists on the term "allegedly." But U.S. News & World Report blog-post headline proclaimed: "NHTSA: 89 Deaths Caused by Unintended Acceleration in Toyota Vehicles." The Los Angeles Times stated in a headline that sudden acceleration "led to" the deaths. A New York Post headline earlier declared that faulty Toyotas "have killed" 52 people. A CBS News Web headline (over an Associated Press story) similarly said the acceleration car fault "has killed" 89.
Toyota doesn't look so bad after all!
In any case, the NHTSA "complaint database," available on its website to anyone (yes, including the mainstream media), is hooey. So I found when I actually looked at the complaints. (Now there's a novel idea!) Anybody can enter anything. An entry filed by someone named "Damnable Liar" from Holy Toledo! Ohio claimed his car accelerated to the moon because of a child seat problem. That was mine. But the ones citing 99 deaths in one vehicle? Not mine.
Three of the alleged fatal accidents never took place, which DID take sleuthing on my part. So did finding that, after the frenzy began, seven entries comprising ten deaths originally blamed on other aspects of the cars were refiled as unintended acceleration.
But at a glance you can see many simply deduce that since investigators found no cause other than driver error, then the accelerator must be responsible. Or they make the illogical deduction that since the brakes weren't applied, it was sudden acceleration. And so on.
And then there was the lady whose son, while sloshed and after smoking dope, killed his best friend in a Toyota Scion. After entering a NHTSA complaint blaming her boy's accident on sudden acceleration she entered seven more Scion complaints comprising 12 deaths that she'd merely pulled out of news reports and labeled as sudden acceleration. She's covering for her son.
Yes, THESE are the "alleged" or "Toyota-caused" deaths we keep hearing about!
No, NHTSA didn't blame all Toyota's troubles on driver error
By Michael Fumento
I can't count how many people sent me items about how NHTSA says the whole Toyota Tempest has now been determined by the government to have been driver error. Hallelujah! Case closed!
Wrong.
The ruckus began with a Wall Street Journal pieces with the unfortunately ambiguous titles: "Crash Data Suggest Driver Error in Toyota Accidents" and "Early Tests Pin Toyota Accidents on Drivers."
The U.S. Department of Transportation has analyzed dozens of data recorders from Toyota Motor Corp. vehicles involved in accidents blamed on sudden acceleration and found that the throttles were wide open and the brakes weren't engaged at the time of the crash, people familiar with the findings said. The early results suggest that some drivers who said their Toyotas and Lexuses surged out of control were mistakenly flooring the accelerator when they intended to jam on the brakes.
Of course they found that. I wrote about the mistaken pedal issue months ago. It's been know about since the 1980s and especially plagues the elderly.
More important was the Journal's quote from scientist with the National Academy of Sciences, which has been studying the problem. "'In spite of our investigations, we have not actually been able yet to find a defect' in electronic throttle-control systems."
And they never will. Even though that's the pet theory of the media and trial lawyers, there's nothing wrong with Toyota's electronic throttles.
But consider this statistic:
In the first half of last year, about 100 people reported sudden unintended acceleration in Toyotas. In the first half of this year, it was about 5,000. Do you think that's all "driver error," much less all those people stomping the wrong pedal all of the sudden?
Stay tuned!
Automakers' new problems - vampires and bears
By Michael Fumento
Toyota complaints keep pouring in to the National Highway Safety Administration, and some are pretty darned bizarre. But most are less so than a Colorado woman's woman's claim that a vampire attacked her Chevy Blazer.
Subaru killed my mommy!
The 58-year-old woman, whom police said appeared to be drug- and alcohol-free said smashed her SUV into a canal while escaping from one of the undead. "Authorities told KKCO-TV that the driver claimed she spotted the bloodsucker while driving on a dirt road outside Fruita, Colo., on Sunday - so she threw the car into reverse in an attempt to escape" and rolled into a ditch.
No word yet on whether DOT Secretary Ray LaHood will propose making as mandatory equipment on all new cars both crucifixes and containers for holding fresh garlic. And mind, ye cynics, we know events transpired as she said because nobody would ever lie about why they got in an accident.
In a more "grizzly" accident, the driver of a 2006 Subaru Impreza submitted multiple complaints to NHTSA stating:
I HIT A BEAR AT 55MPH WITH THE CRUISE CONTROL ON. THE BEAR LEAPED OFF THE BANK IN DIRECTLY IN FRONT OF THE VEHICLE. THE CRASH THAT RESULTED IN THE BEAR BEING KILLED INSTANTLY, ABOUT 600 LBS. OF BEAR. THE CAR CAME TO AN INSTANT HALT WITH THE FRONT END BEING PUSHED BACK, LIGHTS,GRILLE,FENDER, HOOD, ECT. NO AIR BAGS DEPLOYED. AFTER CALLING SUBARU OF AMERICA, I WAS ADVISED TO LET MY INSURANCE HANDLE IT, BUT AFTER MUCH ARGUMENT WAS ASSIGNED A CASE NUMBER OF 1020805 BY SUBARU. THIS IS NOT A INSURANCE PROBLEM, THIS IS SUBARU PROBLEM.
Actually, it sounds like the party with the biggest problem was the poor bear. Aside from that, the air bag failure is cause for concern but the focus on the cruise control and blaming Suburu generally would seem . . . well, actually would seem pretty typical these days.
But I cheated; actually the accident was reported in 2007. Right about when the bear that played "Gentle Ben" went missing . . .
Sudden Acceleration in Media Falsehoods Regarding Toyota
By Michael Fumento
"Now that the dust has begun to settle on Toyota's recall fiasco, it's being made clear that the toll on human life was greater than initially reported," reports U.S. News & World Report online. The title: "NHTSA: 89 Deaths Caused by Unintended Acceleration in Toyota Vehicles."
Not exactly true. Says who? NHTSA. Here's an email I received this morning from their press office.
Please remember these are customer generated complaints of alleged unintended acceleration that have not been verified by NHTSA:
"As of May 20, 2010, NHTSA has received complaints covering a total of seventy-one (71) fatal incidents that allegedly involve unintended acceleration in Toyota vehicles since 2000. These reports covering incidents dating back to 2000 include eighty-nine (89) fatalities and fifty-seven (57) injuries."
The emphasis is original. They used both bold and italics to try to make the point. And it just doesn't seem to take, does it?
In fairness, often news outlets do make it clear these are mere allegations, but they never make it clear enough how tenuous the link is. You can send NHTSA a complaint online or by phone and claim absolutely anything you want. You say that your Toyota become a giant Transformer, wreaked havoc on Manhattan, and then became a Civic again? That's fine. The computer won't spit your complaint back out.
I went through the process on the NHTSA complaint page myself and was one keyboard tap away from turning those 89 deaths into 93 deaths.
And that's how 19 deaths associated with Toyota sudden acceleration in November, before the first class action suit was filed, has become 89 deaths. No, more people haven't died. More people have simply come to the conclusion that a death in their Toyota over the last decade was caused by sudden acceleration. The offer of lucre has a way of jogging the ol' memory.
I'll be writing more on this. Meanwhile, I've published 10 articles on the hysteria and there's a lot more where that came from.
"Why Do We Continue to Believe Bizarre Things?" my AOL News article
By Michael Fumento
Why in an age saturated with information, do we believe bizarre things? Things like crop circles, alien abductions, and 9/11 conspiracy theories? Why do we believe wild Toyota stories like the 94 mph "runaway Prius"? The gearbox allowed shifting into neutral by merely reaching out a finger, but the driver told credulous reporters he was afraid to do so because he needed to keep both hands on the steering wheel. And regarding that cell phone in his hand?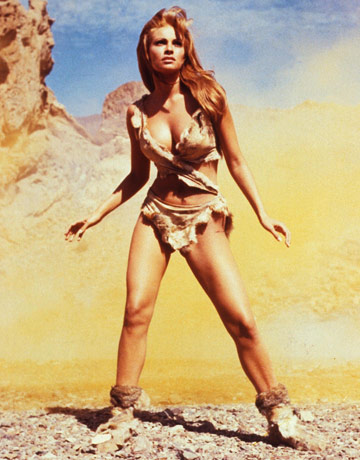 She had the same brain we do. Not to mention other attributes ...
Why a steady stream of mass hysterias, like swine flu last year and Toyota sudden unintended acceleration.
At the core is that despite our computers and communications devices and other gadgets, and despite all the scientific discoveries made, we still have pretty much the same brains as Paleolithic man some 40,000 years ago. That brain looks for magic and it looks for patterns. And unlike Paleolithic man we have modern institutions like the media, government, and lawyers who exploit those base thoughts.
I hope and think you'll find my article a real eye-opener in EXPLAINING so many of the things I've made a career writing about.
New Toyota outrage! Company considered defending self!
By Michael Fumento
Is there any depth below which Godzilla Motors, formerly know as Toyota Motor Corp., will not go?
The Washington Post has revealed "Toyota officials sought to develop a public relations campaign to attack the credibility of key witnesses who have testified before Congress about acceleration problems with the company's cars.
He's no longer the stuff of science fiction.
It further says, "Congressional investigators have demanded to know from company officials whether a campaign to debunk or discredit their witnesses was put into action."
Had Toyota proceeded, it would have made use of a number of surveys an outside company conducted for it.
The two witnesses in question are Safety Strategies and Strategies, Inc. President Sean Kane and Southern Illinois University Professor David Gilbert. Until questioned at that hearing, Kane had passed himself off as a "independent safety expert." He was forced to admit he was working for five law firms. And Gilbert? He was working for Kane.
Friday, Toyota said Gilbert and Kane had made "assertions" that had "created unwarranted consumer concern." Which is exactly what they did.
For example, Kane produced a February 5 report titled "Toyota Sudden Unintended Acceleration," and has an appendix listing "Unintended Acceleration Incidents" from 1999 to 2010 that says, "We have reviewed all of the complaints in the database," about a tenth of the listings refer to slowness or hesitancy in acceleration. So either his people didn't review the complaints or they did and Kane intentionally left the non-applicable ones in to pump up the numbers. With apologies to Monty Hall, you can't choose what's behind a non-existent Curtain Number Three.
Kane said he considered the automaker's attempts to discredit him as validation. "If we weren't finding something that was meaningful, they wouldn't be spending this kind of time and money," he told the Post. "But what we're seeing is that they're willing to go to great lengths to discredit anyone who asks questions about their products."
Really? What if I were widely cited as an authority on microwaves and repeatedly insisted I had evidence that long-term use of microwave ovens turned people into man-eating gerbils. And then a microwave manufacturers association said I was wrong. Presumably that would validate my work.
Yet Toyota hasn't gone to great lengths to discredit Kane. So his one little short assertion fails both factually and logically.
The implicit message in all this is that Toyota no right to defend itself. Whether accused rightly or wrongly, it must simply take its lashes. For all the talk about "The Toyota Way," specifically whether the company has strayed from it, is this The American Way?
Toyotas being recalled for LACK of acceleration!
By Michael Fumento
Toyota is recalling about 50,000 2003 Sequoia SUVs to upgrade the software in the vehicle's electronic stability control. Without the upgrade, according to Consumer Reports, when the Sequoia accelerates from a stopped position, the system could activate at a low speed (about 9 mph) for a few seconds, which might cause slower acceleration than the driver expects.
Toyota having done so, we can now expect a surge of complaints to NHTSA. Every Toyota recall notice leads to those. And, interestingly enough, they will actually be counted as sudden acceleration complaints! That's because NHTSA has no category for "sudden acceleration," merely a "speed control" category. Go through the February "Toyota Sudden Unintended Acceleration" report of trial lawyer assistant Sean Kane and you'll find in the list of NHTSA complaints that Kane explicitly identifies as regarding "sudden acceleration" a huge number that actually refer to LACK OF acceleration.
Another twist is that half of the recalled vehicles have already been fixed, according to Toyota. That's because it published a Technical Service Bulletin in 2003, after the problem was identified, and dealers have been replacing the system's electronic control unit in affected vehicles to address individual owner concerns.
Toyota says there have been no reported injuries or accidents as a result of this problem.
Meanwhile, in events you're much less likely to hear about, Porsche and Volvo issued simultaneous recalls, Porsche for its 2010 Panamera, which happens to be what I drive! (If only in my dreams.) Volvo for its 2010XC90.
The Panamera recall is because under certain conditions a seat belt mount could detach from its anchoring system, possibly leading to inadequate passenger protection in a crash. Volvo XC90 SUVs are being recalled because of a possible fuel-line leak that could lead to a fire. In other words, both of these cars' defects can be deadly. But to reiterate, it's the Toyota recall getting all the media attention.
Welcome to Hysteria World!
Toyota's "questionable, evasive, and deceptive legal tactics"
By Michael Fumento
"Toyota has routinely engaged in questionable, evasive and deceptive legal tactics when sued, frequently claiming it does not have information it is required to turn over and sometimes even ignoring court orders to produce key documents, an Associated Press investigation shows." Or has it? I'm not necessarily challenging their conclusion, I'm really asking.
I would live inside this car...
The point of my Toyota writings so far has been that the company builds great cars and has been falsely maligned. That doesn't mean it hasn't engaged in wrongful courtroom antics, though, and the company just doesn't pay me enough to say otherwise. (Actually for the record they don't pay me anything. Nor does any PR firm. HOWEVER, for one of these babies, it's just possible they can buy me off and I think they have nothing to lose in trying. See inset.)
One problem is it is indeed just AP's review. As my articles have made clear, the media are on a witch hunt and just as witch hunters of yore often believed they were doing the Lord's work, so do those of today. And just as those witch hunters were often just a bit too quick to see evidence of witchcraft where none was to be found, so too today.
Another problem is that it's clear from the article that the "experts" upon whom the journalists relied aren't just lawyers, aren't just trial lawyers, but are trial lawyers suing Toyota. "Automobile manufacturers, in my practice, have been the toughest to deal with when it comes to sharing information," one lawyer told AP, " but Toyota has no peer." He represents somebody killed in a Toyota crash.
Then we're told, "Similar claims have been lodged by Dimitrios Biller, a former Toyota attorney who sued the company in August, contending it withheld evidence in considerably older rollover cases."
To its credit, AP does say, "Attorneys who regularly defend corporate clients say it's common for plaintiffs' lawyers to complain they are not receiving the information they need and that Toyota's tactics do not necessarily indicate nefarious intent." Moreover, if you pore over enough lawsuits you will find discrepancies.
That's the old rule of "The more you look, the more you find." It's pretty much a given that if you analyze every tort case Toyota has been involved in over the last decade or so, you'll probably find some legal wrongdoing - and the same would be true for Ford or GM.
The jury is still out on this one.
D.C. area poll shows, once again, OTHER Americans are crummy drivers
By Michael Fumento
Why are people killed in Toyotas? Because a huge number of Americans are killed by motor vehicles of all types and Toyota has been the third biggest seller her for the past decade. Why do so many people complain about sudden unintended acceleration in Toyotas? Because so many Americans complain of sudden unintended vehicles across the board and see above. And what links these two? Americans are crummy drivers. But mind you, it's not us it's them!
"Fully 80 percent of area adults often see distracted driving, with reports of such behavior surging in the past five years," according to a new Washington Post poll . More than two-thirds of those surveyed said they often witness overly aggressive driving. Yet only one in eight considers his or her own driving too aggressive.
Almost everyone polled, including those under 30, said sending or reading texts or e-mails while driving should be illegal. But nearly a fourth of respondents said they e-mail, text or use the Internet while driving. For young adults that goes up to 40 percent.
"Do as I say, not as I do" is a common attitude. Often it's a joke line. But when it comes to driving, in a nation that's lost 400,000 people on the roads in the past decade of which all of 56 have been "associated with" runaway Toyotas (about half the total butcher's bill per day, the joke isn't very funny.
Car buyers rejecting "Toyota Terror" accusations
By Michael Fumento
"Terror on the Roads: Runaway Toyotas," was the title of an entry on a prominent Brazilian blog March 31.
But today Toyota Motor Sales reported March sales increased 35.3 percent over the same period last year, on a daily selling rate (DSR) basis.
Meanwhile the Harvard Business Review has analyzed a survey of U.S. American vehicle owners conducted between February 20 and March 2 to find out how they feel about Toyota. They found "Toyota owners' overall satisfaction was in line with other vehicle owners'."
Said the journal:
These respondents aren't living under rocks. Both for Toyota and non-Toyota owners, 93% of respondents had heard about the recalls. But contrary to media prognostications, the recalls don't appear to have affected the Toyota brand image adversely among its customers. Toyota owners, compared to owners of other vehicles, agreed more strongly that Toyota appropriately handled issues with respect to the brake-pedal recall; they were more likely to say they believed that this incident is an outlier, that typically Toyota has a strong reputation for quality, and that recall shows Toyota's commitment to customer safety.
Toyota owners:

. . .did not believe that "domestic automakers such as GM, Ford, and Chrysler are catching up to Toyota and Honda in either safety or reliability." And regarding the big question, "Would you buy another Toyota? Again, the results were clear. Toyota owners did not believe they would be less likely to buy a Toyota vehicle in the future because of sudden accelerator furor, indicated greater willingness than non-Toyota customers to consider buying a Toyota, and considered Toyota to be one of the most reliable automotive brands.
Together these indicate that Toyota sales may not suffer in the long term, unlike with Audi after it suffered its own sudden acceleration witch hunt in the 1980s. That said, tort lawyers have filed suits that could cost the company many billions of dollars. What the free market system perhaps won't do, the legal system very well could.
"How a pit bull is like a Prius," my Philly Inquirer article today
By Michael Fumento
What could pit bulls possibly have in common with Toyotas? Pit bulls, after all, tend to be smaller and furrier. And whatever you do, never try to wash and wax a pit bull.
Still, there is a connection. Both have been at the center of "misinformation cascades," in which false "facts" roll downhill until they become avalanches, sweeping away everything in their path.
During the 1970s and early '80s, pit bulls maimed about 80 people a year and killed about seven. That compares to about 58 lightning deaths a year. Then, as now, serious dog attacks made only the local papers. But in 1986, the national networks aired spectacular footage of a pit bull attacking an animal-control officer. Suddenly, pit bulls had their incisors in the national consciousness.
And less than a year ago, Toyotas were Consumer Reports readers most highly rated cars with a terrific safety record. And now, seemingly, they're going nuts. Suddenly accelerating down freeways, into buildings, into walls. As you'll see in my Philadelphia Inquirer piece, actually pit bulls have a lot in common with Toyotas.
But with a pit bull, don't kick the tires!
"Are some reporters lying in their Toyota coverage?" my Canadian Free Press article
By Michael Fumento
I've shown clearly that reporters are acting with reckless disregard for the truth in the Toyota sudden acceleration feeding frenzy since my Los Angeles Times article "Toyota Hysteria" on March 9.
And no article showed that more than my Forbes.com expose, "The Toyota Hybrid Horror Hoax," of March 12.
Richards claims, "Some [of his emailers] say they are looking at the dash and there it appears you should shift the lever to go into neutral UP and not left (which is the correct way)." Really? But the real problem is that Prius driver James Sikes stated repeatedly and explicitly that he never even tried to shift at all. Which makes everything Richards say about the alleged difficulty of shifting the Prius gears something of a red herring, doesn't it?
But are some reporters outright lying? One presumes so out of so large a number; but the charge is generally hard to prove because it requires showing a state of mind. You have to catch the reporter making clearly contradictory statements or show he clearly knew a set of facts and presented them otherwise - or failed to present them otherwise.
That the person "Should have known better" isn't enough. With that, I present my letters exchange with the San Jose Mercury News and specifically its automobile writer, Gary Richards in this Canadian Free Press article. You can draw your own conclusions.
The things I endure to get a story!
By Michael Fumento
If you think I was tough for embedding in Iraq's meanest city a year after having my guts blown out in another part of the country, that was nothing compared to listening to the C-SPAN video of the 2-hour plus Star Chamber interrogation of Toyota Sales CEO James Lentz at the February 23rd. Twice I had to stop the video to pop Xanax.
Youse refused that offer we said youse couldn't refuse!
I thought if Rep. Joe Barton, in his interrogation, pronounced Toyota as "Toyotoe" one more time I was going to scream.
Rep. Bobby Rush read aloud a letter about an Avalon accident in the Dallas area that stated, "Police said there was no evidence of any braking, giving rise to the idea that it was an accelerator problem."
Hello?
And I couldn't believe my ears as Rep. Jerry McNerney essentially openly blackmailed Lentz regarding a plant in his district that had been co-owned by GM and Toyota, but GM pulled out. "You're having a public relations nightmare right now," McNerney told Lentz. "If you work with us to keep that open, it will be a real plus for your public relations issues."
Presumably if that plant doesn't stay open, Lentz will wake up with a horse's head in his bed or at least receive a fish wrapped in newspaper.

You'll hear more about this interrogation get gleanings of it in an upcoming article, but this should be taught for future generations as a textbook case of congressional demagoguery.
"Why Do Toyotas Hate the Elderly?" my article in Forbes Online
By Michael Fumento
It was the Camry in a car wash nightmare. With her two grandchildren in the car, Doris Dresner went through the wash in Columbia, Mo., with the gear in neutral. At the end, she stepped on the brake and put the car in drive. Suddenly it lunged forward. She slammed the brake, but the car just went faster.
It seems trial lawyers should be filing suits against Toyota for age discrimination!
Dresner swerved to avoid a fire hydrant, but nonetheless it ripped off her left fender. Still accelerating, the car shot across the street, jumped the curb and went airborne before landing in a parking lot. Fortunately everybody was OK.
A columnist who only wrote about this a few weeks ago (though the accident happened in 2005) declared, "I suspect there were people like Doris all over the country - one here, one there." And he's right. But for all the wrong reasons.
Toyota should be ashamed for building cars that pick on seniors citizens!
Doris Dresner, you see, is 80. The columnist claimed her long driving record should allay suspicions that she hit the accelerator instead of the brake. In fact, her age supports that suspicion.
Data regarding fatal accidents "connected to" Toyota sudden-acceleration complaints show that the trial lawyers really should be suing the company for age discrimination. That or as I write in my Forbes Online article "Why Do Toyotas Hate the Elderly," something else important is happening that might explain much of the sudden acceleration phenomenon.
"How Media Took Us For A Ride In A Prius," my IBD piece
By Michael Fumento
For three days, James Sikes held America's highest honor: victim. The nation had been transfixed by his almost half-hour-long 94-mph horror ride in his runaway Toyota Prius. He burned his brakes right down to the metal, unable to even slow the vehicle. Only his prescience in calling 911, followed by a highway patrol officer providing assistance, saved his life.
Did Jim Sikes read "The Wind in the Willows"?
Then my article "Toyota Hybrid Horror Hoax" at Forbes.com brought it crashing down. But lest you get false impressions from that title, the real hoaxter wasn't Jim Sikes, but the media. Red flags about his story were popping up from the start. Yet the entire Fourth Estate systematically ignored them. As one reader put it to me in an e-mail: "I weep for the state of American journalism." Read about it in my Investor's Business Daily article.
U.S. media ignoring my Prius hoax expose, but overseas . . .
By Michael Fumento
Mentions of my Forbes.com expose of the Prius hoax are almost entirely absent from U.S. newspapers, notwithstanding my numerous national TV appearances discussing it and countless radio shows. As I noted, Sikes's claims regarding why he refused to put his care into neutral - claims he made at a press conference that's on the Web and in a CNN interview that's also on the Web - are alone enough to show he's flat-out lying.


Yet four four days after my piece appeared, the Washington Post declared "Sikes said he tried to free his gas pedal with his hand but did not say whether he put the car in neutral."
One of my readers sent a letter by the email correcting the story, but the Post did not run it.

Two days after my article appeared, the "car expert" for the San Jose Mercury-News, Gary Richards, wrote about the alleged difficulty of putting the Prius into neutral. In fact, with the shifter right next to the steering wheel and requiring only a flick of the finger, it's one of the easiest shifter conceivable. But as I wrote to him, by focusing on the alleged difficulty of shifting he misled his readers into thinking Sikes had tried when, again, his reasons for not trying destroy his story. I'll be writing more anon about our exchange.

And yet my article was reprinted in newspapers all over Canada, and written about in other. And it's also reached at least as far as Norway.

Wrote the Dagbladet, "As Forbes commentator Michael Fumento points out, this pedal is pretty difficult to reach with your hand in a Prius (or any other car) without removing both your eyes, head and the rest of your body from their normal driving position in the driver's seat. It is simply not possible the way Sikes explains in his story." It adds, "Raising doubt about wild Toyota adventures, "experts doubt the Prius accident in the US." And regarding Norway's own "runaway Prius accident" (the car smashed into a guard rail at 94 mph), neither in Norway has any fault of the car been found."

This is not the case of "A prophet is not without honor, save in his own home." (Although trust me, I have repeatedly experienced that throughout my career!) It's a terrible reflection on the U.S. media, as indeed was my very expose of the Prius hoax and the entire witch hunt attitude our media have had towards Toyota.
Media falsely claiming CHP report backs Toyota Prius hoaxer's claim
By Michael Fumento
Over a week after I exposed the "Toyota Hybrid Horror Hoax" at Forbes. com, the press (as opposed to some TV networks, talk radio, and bloggers) just won't throw in the towel.
Shifting a 2008 Prius
"A California Highway Patrol report released on Wednesday in a sensational 'runaway' Toyota Prius incident appears to support the version of events given by the driver, which the automaker has called into question," reports Reuters.
Really? Here's the report. It's just a few pages; read it for yourself. But it's interesting to note what Reuters plucked that it believes to be so compelling.
"'I could see the driver sat up off his seat indicating that he was possibly applying the brake pedal with his body weight," CHP Officer Todd Neibert wrote in his investigative report." Sorry, but being up off your seat doesn't mean you're standing on the brakes. Try it for yourself in your own car.
"'I was able to view his actions through the lowered right rear window," Neibert said in the seven-page written narrative. 'His back was arched and both hands were pulling on the steering wheel. I noticed that the Prius slowed slightly, down to approximately 85 to 90 miles per hour." As with the earlier comment, by definition this occurred after the officer arrived on the scene. It doesn't tell us what Sikes was doing in the previous 25 minutes. And it's very important that somehow when the officer showed up the Prius was slowing down at least slightly, thereby contradicting Sikes's claim on the 911 tape and later that it wasn't slowing at all.
"Neibert wrote that Sikes 'looked over at me briefly and appeared to be in a panicked state' . . . . the brake lights on the blue Prius were lit as it ascended a long uphill grade at about 85 miles an hour." Again, this was after the officer arrived on the scene that the brake lights were lit. As to appearing to be in a panicked state, that's how Sikes would want to look isn't it?
"He said that Sikes complained of tightness in his chest, 'appeared to be extremely stressed from the incident' and was reluctant to get out of an ambulance when he learned that reporters were waiting to speak with him." If you were the person pulling off a hoax, isn't that what you would say and do? Absolutely you would not want to speak to reporters. You'd want to work on your story and address them later.
"Neibert said in his account that he discovered a large amount of brake dust and brake pad material in and around the wheels. The accelerator and brake pedals in a normal resting position and that the floor mat did not appear to be interfering with them." RIGHT! The accelerator was in an upright position, and yet Sikes claimed while the vehicle was moving it was so jammed that he leaned forward to grip it and couldn't pull it up. Why, upon coming to a rest, did the accelerator suddenly pop up? As to the brake pad material, as the Wall Street Journal reported:

A federal safety investigation of the Toyota Prius that was involved in a dramatic incident on a California highway last week found a particular pattern of wear on the car's brakes that raises questions about the driver's version of the event, three people familiar with the investigation said.

During and after the incident, Mr. Sikes said he was using heavy pressure on his brake pedal at high speeds.

But the investigation of the vehicle, carried out jointly by safety officials from the National Highway Traffic Safety Administration and Toyota engineers, didn't find signs the brakes had been applied at full force at high speeds over a sustained period of time, the three people familiar with the investigation said.

The brakes were discolored and showed wear, but the pattern of friction suggested the driver had intermittently applied moderate pressure on the brakes, these people said, adding the investigation didn't find indicators of the heavy pressure described by Mr. Sikes.

Now let's recap just one of my findings in the Forbes.com piece that the CHP report doesn't deal with because it concerns later events.

The 911 dispatcher, as you can hear on the Web, repeatedly begs Sikes to either stop the engine with the ignition button or put the gear into neutral. Sikes refused to do either, later giving various bizarre reasons. "I was afraid to try to [reach] over there and put it in neutral, he told CNN. "I was holding onto the steering wheel with both hands - 94 miles an hour in a Toyota Prius is fast."

Yet:
We know Sikes spent most of the ride with a cell phone in one hand.
Sikes claimed at a press conference that he reached under the dash and yanked on the floored accelerator. I'm thin with arms the average American length, but fell three inches short. Sikes almost certainly can't do what he claims, but nobody's asked him to repeat the motion. In any event, it can hardly be done with both hands on the wheel.
Finally in the 2008 Prius the shift knob is mounted on the dash expressly to allow shifting by merely reaching out with a finger. (See inset.)

Just what exactly does it take to convince the press?

It's interesting that most people think Bogie said "Play it again, Sam!" in one film, while in another Bogart movie banditos said "We don't need no steenking badges!" Yet all you have to do is pop in the DVD to see that neither quotation is correct.

Likewise, we have a media that by and large has refused to make an effort little more than that to verify Sikes's outrageous claims or point them out as such. The Washington Post, as I've noted, claims Sikes never said whether he put the car in neutral. Never mind that he told press conference and CNN that he didn't and these are both on the Web.

If the media don't see it in their interest, they won't investigate - even to the point of half a minute of Googling. Remember that the next time you hear a Toyota horror story.
My NYPost piece on "sudden acceleration" as an American phenomenon
By Michael Fumento
"No other country in the world has comparable problems with cars accelerating on their own," observes one of Germany's top magazines, Der Spiegel - yet "the same cars exist around the world, but no accidents of this type have occurred anywhere outside of North America. There were also cases of stuck Toyota gas pedals in Germany. The drivers braked successfully, and notified their car dealerships. None of them met their deaths."
Indeed, sudden acceleration appears to be a form of American hypochondria - not just on Toyotas. The data show it, the question is why? Learn about it in my New York Post piece today, "Toyota Hysteria: Real Stories Are about Us."
This blog at "Tundra Headquarters" plays my "Toyota Hysteria" piece the right way
By Michael Fumento
This blog titled "Toyota Crash Victim Speaks Out Against Media Smearing Automaker" exploits my cache as a victim of a REAL Toyota defect, which I detailed in my Los Angeles Times piece "Toyota Hysteria." (The inset photo is of my Toyota MR2 after a problem with the rear end caused it to fishtail next to a cliff and send me and my future wife right over.)
My wife broke her neck and skull in this car, but she says it was a bad car not that Toyota is a maker of bad cars.
"Basically, Fumento is the real deal. He's got personal negative experience with Toyota, and yet he still manages to say that Toyota is being railroaded by uninformed and uneducated members of big media."
It also displays my journalism record. I presume I'm the only Toyota defender who was in combat with the Navy SEALs!
My only problem with it is it says "He calls Prius driver James Sikes a 'media whore liar.'" My writing style is intentionally understated. Among my over 800 articles you will not find the word "whore" and may not find the word "liar." I show the facts and let the reader conclude.
That said, I must say that Sikes truly is as . . . . Nope! Not going to do it!
Washington Post spreading more misinformation on Prius hoax
By Michael Fumento
The media are still resisting admitting that James Sikes's Wild Ride was just another Balloon Boy Hoax, in which they played a vital role. Thus the Washington Post today states, "Sikes said he tried to free his gas pedal with his hand but did not say whether he put the car in neutral."
Up, up and away!
Actually at his press conference the next day he said about five times he did not. That is available on the Web and I link to it in my Forbes.com article in which I exposed the hoax.
I also reported CNN asked why he didn't put the car into neutral and he said, "I was afraid to try to [reach] over there and put it in neutral. I was holding onto the steering wheel with both hands - 94 miles an hour in a Toyota Prius is fast."
Yet for much of the ride he had a phone in one hand!
He also claims to have reached way under the dash to try to pull up the accelerator. And the kicker is that the 2008 Prius is mounted on the dash so that you don't have to take your hands off the steering wheel to shift as this image shows.
This alone shows Sikes to be a complete liar, yet the Post negates all these questions with its sloppy reporting.
The Post also says that a Toyota representative said "that Sikes was told by the 911 operator to put his Prius into neutral and turn off the ignition."
Either the operator did or she didn't. Why is this attributed to Toyota? Again, you can find that 911 call all over the Web and a link to it in my piece. You hear this poor lady BEGGING Sikes to turn off the ignition or put the car into neutral. He refused. It's a fact, not a "Toyota claims."
We need reporters to admit "We wuz wrong. This was another Balloon Boy Hoax and we blew it!" Then we need them to call off the witch hunt.
(Image courtesy of Jaime Arbona.)
Gov't report backs up my Prius hoax revelation
By Michael Fumento
As I reported in Forbes Online on Friday, and am scheduled to discuss tomorrow on NBC's Today Show, the Balloon Boy in a Prius incident was baloney from beginning to end. Now a congressional memo available in its entirety online has provided further substantiation based on an analysis of the vehicle.
Here's a summary of what I reported in Forbes, which is essentially a summary of what nobody else in the entire U.S media reported:
Sikes repeatedly says he stood on the brakes or lay on the brakes and he couldn't even slow the vehicle. Yet Car and Driver tested three cars at full throttle at 100 mph and brought them all to a full stop, including a 540-horsepower Mustang. The 2008 Prius has 110 anemic ponies under the hood.
You can listen to the tape of the 911 operator repeatedly begging Sikes to either stop the engine with the ignition button or put the car into neutral. Sikes never says these functions didn't work; he says he was afraid to try them giving various contradictory or absurd reasons.
Regarding his refusal to shift into neutral, Sikes told CNN "I was afraid to try to [reach] over there and put it in neutral. I was holding onto the steering wheel with both hands - 94 miles an hour in a Toyota Prius is fast." Yet:
We know he spent most of the ride with a cell phone in his hand.

He claims he reached all way under the dash to try to physically pull up the floored accelerator. I have average-length arms and can barely touch the pedal in the full up position.

There's an excellent chance Sikes is physically incapable of what he claims. Nobody asked him to repeat the motion. In any case it's an incredibly awkward movement for somebody who insisted he couldn't take his hands off the wheel.

Finally, the 2008 Prius shift knob is mounted on the dash inches away from the steering wheel, expressly to allow shifting without lifting the right hand.

And here's something I missed in the original piece, though it's included in the version on my website: After Sikes stopped the assisting officer observed that the accelerator was in the up position. Why would stopping the car make it pop back up? That makes no sense.

Sikes turned out to have a checkered past. He is $700,000 in debt and owes $20,000 of that on his Prius. He also has a history of filing insurance claims for allegedly stolen items. In other words, it was already case closed. The memo is just playing pile on.

It says that during two hours of test drives of Sikes' car Thursday, technicians with Toyota and the National Highway Traffic Safety Administration failed to duplicate what Sikes had described. "Every time the technician placed the gas pedal to the floor and the brake pedal to the floor the engine shut off and the car immediately started to slow down," the document written by the Republican staff of the House Committee on Oversight and Government Reform said.

Also, the Prius is designed to shut down if the brakes are applied while the gas pedal is pressed to the floor. If it doesn't, the engine would "completely seize," according to the report citing Toyota's "residential Hybrid expert."

"It does not appear to be feasibly possible, both electronically and mechanically that his gas pedal was stuck to the floor and he was slamming on the brake at the same time," said the memo.

Naturally Sikes' attorney said "Pay no attention to those facts behind the curtain!" He seems to think it important, as I've heard others also say, that Sikes says he has no intention of suing Toyota. Granted I happen to be a lawyer but a quick Google search reveals he couldn't have sued Toyota in any case. He was physically unhurt. While California is one of the few jurisdictions allowing suits for unintentional infliction of emotional distress, it allows it in only three specific circumstances and Sikes alleged wild ride falls under none of them.

The media will insist that until the government report came out they had no way of knowing. Go back to the beginning of this blog and read what I wrote in Forbes. The evidence was there all along and I reported it two days before the memo was leaked.

Ultimately Sikes has proved himself to be dumber than the proverbial box of rocks. He only got as far as he could because while journalists in school are taught, "If your mother says it, check it out" in this case their motto was "In Sikes We Trust."

Why, after all, didn't they question the congressional testimony of Rhonda Smith that their Lexus suddenly accelerated on its own to 100 mph and nothing she tried, including braking, putting the car in neutral, or even turning off the engine worked. Yes, four of the car's functions all froze at once. What saved them? "God intervened," they said. Inexplicably, they sold this creature to somebody else who drove it 27,000 trouble-free miles before selling it to NHTSA.

Like Congress, the media wanted to believe. They wanted a piece of Toyota's hide and they weren't about to allow little things get in the way - such as that demonic possession of automobiles might make a good plot line for Stephen King novels but has no place in the investigation of possible wrongdoing on the part of a car company.
"Toyota Hybrid Hoax," my piece in Forbes Online
By Michael Fumento
Yes, you suspected it all along. Now I've proved it. Mr. Sikes's wild ride was a fabrication.
"Everything I'm telling you is a lie, but I've got you eating out of my hand!"
The only reason his accelerator was stuck was because the was a size 10 on it. I've nailed him on all counts: the brakes, the shifter, the off button. And to test his claim that he actually reached down and tried to pull the accelerator up but it wouldn't budge I did something that apparently occurred to no other reporter in the country. I actually got in a 2008 Prius to see if it was physically possible to reach that far. I couldn't get anywhere close. An orangutan could, but whatever Mr. Sikes is, that doesn't seem to describe him.
Also, as I knew would be the case, all sorts of things are coming out about his shady background including being deeply in debt, including to Toyota, and making lots of insurance claims for allegedly lost or stolen property. It's all in the piece.
Nevertheless, and I plan to write more on this theme, the real hoaxter isn't James Sikes. The red flags were popping up right from the beginning and the media ignored them because they wanted to ignore them. There's a Toyota feeding frenzy going on and reporters just want their chunk.
Mike on tube regarding Prius hoax article
By Michael Fumento
Neil Cavuto, 6:20, Fox Business, regarding my Forbes Online piece "Toyota Hybrid Horror Hoax."
What does the public realize about the Toyota hybrid hysteria that the media are missing?
By Michael Fumento
On YouTube you can view a news report regarding the Prius alleged runaway hysteria incident, complete with an excerpt from the 911 call James Sikes placed. "It must have been absolutely terrifying," says the news anchor at the end. And that's certainly the way the media have portrayed it. Everything happened exactly as the driver said, and it's all Toyota's fault. In Sikes We Trust.
But time and again when I look at comments appended to such news stories, I find virtually none of the readers or viewers are buying it. Last I looked there were 93 comments on the YouTube posting, of which I creamed this small number from the top. I am also wrapping an article on Mr. Sikes' Wild Ride and if you suspect a hoax, well, watch this space.



This is obviously media crap. I wonder what toyota did to get ripped out by the media. Are they killing the US markets? Someone tell me!


This guy Should change his name to Mr. "James Sucks Bigtime.'


F***ING LIAR!!! Media whore liar!


Wow a car that has an engine more powerful than its braking system. What a crock! He should take his Prius to a tractor pull if he thinks its engine can overcome its brakes.
I guess the service bulletin will be to install an anchor that can be thrown out the window.


This Driver is a Looser.
Toyota makes Excellent Vihicles as long as its Imported Directly From Japan.


This driver is a scammer. He repeatedly ignored the operators suggestions to put his car into neutral. He's a liar.


Exactly. This dick was wanting a new car.


despite enough time to call 911 and talk over,this old man is really stupid to be not able to kill the engine. so is every other people who agree with him.
americans are not fair any more.
no matter how they beat toyota, american car makers can never sur vive.


Maybe he should have put his reading glasses on to find the shifter and pop it in neutral... Another reason why old people shouldn't drive.


This whole story sounds like a load of BS.


Fake government propaganda shit really..


FFS, just turn off the f***ing ignition, put in neutral or as others have said hit the fucking brakes...how hard is it!!!!!!!!


I just can't believe this crap. It's an absolute joke. This guy should not have a licence because he doesn't know where the brake is.


I always laugh at this when I see it in the movies, even when they cut the brake lines. It seems nobody has the brain to drop a gear even with no brakes.


This guy had brakes. I know what wins between the brake pedal & the accelerator every time. THE BRAKE!!!!


This is laughable!!!!


if you fall for this crap then you deserve what comes as a result of it.
His claims are exaggerated..just another "drama" against Toyota.


Idiotic american toyota driver ... what about neutral shift??
really LOL


but we know if something wrong with the pedal do not call 911 just put neutral shift and the car slow down


I suspect this is part of a smear campain against Toyota for being number 1 and releasing hybred cars to the public, they don't use enough oil.


fake fake fake !!!!!!!!!!


doesn't pass the smell test. This guy tried braking AFTER he made the time to call 911? a normal human would have tried to slow down so that he could avoid accidents.


don't believe the media hype.. now that its "government motors" they will bash everyone else in the world until they fail.


No end to the fear mongering. Pay close attention to the language.


"... a reported 52 fatalities....". Actually, NO.


There were 52 claims of fatalities made to the NHTSA, of which only 5 have been verified as genuine. The rest were just that, CLAIMS.


But why let the truth get in the way of a good story.


Why didn't the whiney sissy just merely shift into Neutral, turn the ignition key to the off position and pull the damn key out? Then step on the Emergency Brake. Somebody didn't learn their manhood lessons when they were supposed to back in their formative years. A kick to dah ballsss is badly needed here.


I don't know if I buy his story. He said the car wouldn't go into neutral, and the key wouldn't turn off. He should name that baby Christine!


"Toyota Hysteria," my LA Times piece today
By Michael Fumento
As I write in today's Los Angeles Times, the imagery of Toyotas running amok like something out of a Stephen King novel is simply false, though it's certainly been good for demagogic government officials, the sensationalist media, those who see greater government regulation as the answer to everything, and trial lawyers.
* Although Toyota had almost 17% of total U.S. car sales in 2008, it accounted for merely 8% of total claims for deaths and injuries in the first quarter of that year, according to NHTSA. Edmunds.com found that while Toyota was third in U.S. car sales from 2001 through 2010, it was 17th in NHTSA complaints.
* Thus, even if every sudden-acceleration complaint proved valid, Toyotas are among the safest cars made.
* Sudden acceleration complaints are like the hypochondria of drivers. In the past decade, NHTSA has received 13,000 - against every type of car made.
* In fact, There is an amazing parallel to the Audi 5000 hysteria, in which Audi actually received 40 times the sudden acceleration complaints per vehicle as Toyota has and ALL proved to be driver error.
Despite getting bad press last year, Toyota came out as far and away the top-quality automaker, according to Consumer Reports' 2010 reader survey.
That some of the animosity appears to be that Toyota is foreign owned (I explore this more in a blog), but the company directly and indirectly provides 200,000 U.S. jobs and the Camry - built in the Midwest - has been rated the most "American" car.
AND HERE'S A TERRIBLY IMPORTANT POINT:
Ultimately defects kill very few drivers. Assuming all 52 of the fatalities "connected to" Toyota sudden acceleration complaints were actually caused by them, that's out of 420,000 Americans killed on our roads during that period.
Drivers kill drivers. And Americans are particularly good at this sport. Even though American cars lead the way in safety features, we've gone from having the world's best driving record per mile in 1970 to 11th among industrialized countries by 2005.
Although it was cut from the final version, per capita we rank 42nd out of 48 countries surveyed! And part of the reason is our Naderite obsession with blaming the vehicle, pushed by the media and trial lawyers. It's literally killing us!